Welcome to TASTE OF ISTANBUL
Authentic Turkish Food in Reston, VA
We are an authentic Turkish restaurant and catering service located in Northern Virginia. We serve doner, chicken, beef kofte kebabs, and wraps! In addition, We also serve a variety of homemade baked goods, and vegetarian options.
"Delicious and authentic Turkish food guaranteed to satisfy the entire family. Absolutely loved it! staff was super friendly. Fresh, high-quality meats, tasty spices all combine to form a great experience."
"Just amazing, try it and you won't regret! We visited Taste of Istanbul several times before, but lastly ordered catering for our guests. Each order was packaged perfectly, and it was delicious! Everyone enjoyed their meal. Thank you for the best Turkish food around! We will be ordering from here again :)"
"This restaurant is a family owned business managed by the whole family! Let me start with the food. The quality and taste was delectable and the portions were pretty decent! Both of the chefs sons were very friendly and welcoming. I came in with a smile and leftwith a smile. also if you love gyro they have the best that ive tasted so far! I definitely recommend this place to anyone that likes turkish food. Thank you once again!"
Now offering online ordering for pickup or delivery.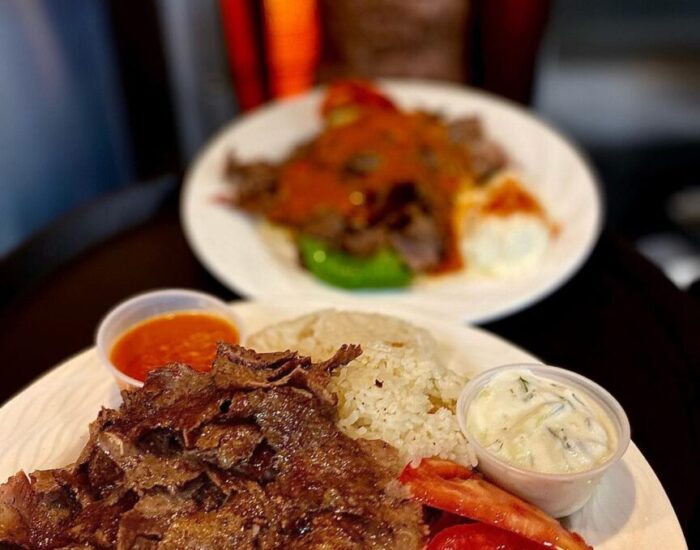 Bringing You a Taste of Istanbul
Taste of Istanbul serve 100% Halal Turkish Food.  Our specialties are guaranteed to make you come back for more.
Döner/Gyro cooked on a rotating shish, thinly sliced and topped with tomato sauce. Served with rice, salad, and tzatziki sauce.
Doner, lettuce, tomatoes, onions, and tzatziki sauce.  Served with fries.
Long skewer of grilled chopped lamb and beef.  Seasoned with a special blend of spicy spices.  Served with garnish, thick yogurt, and rice pilaf.
Crispy flatbread with groundbeef & lamb, garlic, bell peppers, and onions.  Served with lettuce, tomato, onion, and lemon.
Mixed cheese topped with spiced Turkish sausage.
Atlantic salmon, grilled to perfection.  Served with rice, salad and sautéed mushroom sauce.
Grilled chicken, lettuce, tomatoes, onions, and tzatziki sauce.  Served with fries.
Shredded Turkish phyllo stuffed with Kasar cheese and finished with sugar syrup.
Visit Taste of Istanbul, place your order online.